I don't think any of us in the business world need to be persuaded of the importance of becoming more agile and adaptive. Fast-pace change, uncertainty, and volatility are the lexicon of our work lives.
I don't think any of us in the business world need to be persuaded of the importance of becoming more agile and adaptive. Fast-pace change, uncertainty, and volatility are the lexicon of our work lives.
What most will acknowledge, though, is that change is hard. "We're good at the smaller change, but we're not good at the big strategic change," or "we start change programs, but we never seem to finish them properly," or even "we've got too many change initiatives but are still missing the point." 
The evidence backs these perceptions. A 2008 study by IBM of more than 1,500 executives across 15 countries found that almost 60% failed on at least one major objective or failed entirely. More recent research by the University of Oxford reported that IT projects typically take longer than planned and cost more, with only 16% of projects hitting their targets.
As a driver of business change, M&A has also struggled to deliver value for shareholders. Most research since the 1980s suggests that as much as 70% of deals have destroyed rather than created value. A Cass Business School study, reported in CFO Magazine in June 2012, examined more than 3,000 UK acquisitions by UK companies between 1997 and 2010, and found that successful deals create more value than unsuccessful deals destroy, but still acknowledged that the failure rate was around 60%.
If managing successful change is at the heart of being adaptive, why are the failure rates apparently so high? And what are some of the barriers to creating truly flexible organizations -- organizations where change is not only welcomed but seen as energizing and engaging?
The typical culprits tend to fall in one of four categories:
Lack of vision and or changes in direction – blame leadership
Middle management permafrost – blame the rest
Lack of capability or understanding about change – blame the process
Lack of good measures or methods – blame the tools
Some of these may indeed be true, but there is something more fundamental that inhibits agility. Blaming these more tangible challenges has gotten us nowhere.
To truly embed innovation and agility, we have to be able to collaborate, work across boundaries within and between organizations, to bring together disparate experiences and perspectives, and to properly empower people to come up with ideas and make change happen. In other words, we have to build different corporate cultures and ways of working.
These elements are the "softer" side of agility. But they are also the most critical enablers of change and adaptation, and they are harder to understand and to put into effect, which is why they are so often underestimated or misunderstood.
Change Track Research in Australia has the biggest base of data I have seen on how change really works. They have tracked hundreds of change programs of all types over a wide range of companies for 10 years. This has provided great insights in to what really are the major influencers of change (summarized in the chart below).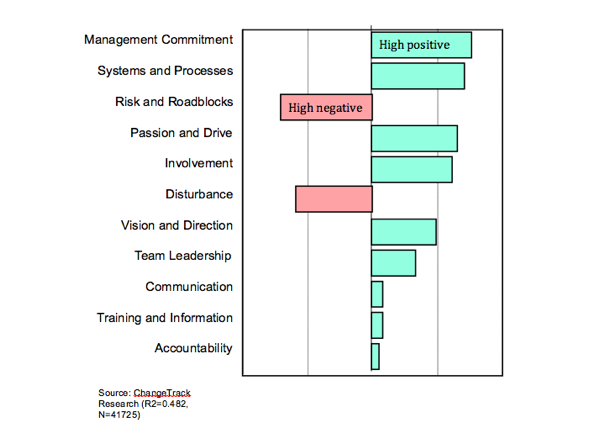 The findings reinforce the point that it is the things like the lack of management commitment, passion and drive, feeling of involvement that are the greatest barriers to change. Much more so than the traditional focus of many change efforts on communication and training, or simply just trying to make people accountable and hope change happens that way.
So how do we create these kinds of environments and organizations that truly empower and engage, that build trust through consistent management commitment and demonstrate passion, as well as alignment to our more quantitative strategic goals?
First, we have to identify the real cultural norms of an enterprise. Are people really empowered or are they constrained by limited authority, degrees of freedom, and actually not trusted? Have we built processes of scheduling and managing work to try to manage complexity, but that are actually hugely disempowering?
Companies must build management commitment from the top, and that means building the trust from top down. Managers need to communicate the following message: "I trust you to do the right thing, to react to the situation, or develop the new idea, but I will also support you if mistakes happen." All within reason, of course.
Managers must also reinforce these commitments and behaviors through the right processes and systems. These are, for the most part, done with the help of HR -- performance management, learning, leadership development, and so on.
Another approach is to start with experiments and projects—a form of "skunk works"—entities that are created outside the mainstream of the business where the rules are set aside in the interests of encouraging more radical thinking and innovation.
HR can play a major part in creating these kind of more systemically agile organizations. If, as some like to suggest, HR is the custodian of corporate culture, then HR should be helping to articulate and understand these "softer" enablers of change and agility, and bring them to life.
What do you think sets adaptable organizations apart from the rest? Please share your thoughts and help us hack HR by joining the "Building an Adaptability Advantage" hackathon, a joint production of the Chartered Institute of Personnel and Development (CIPD) in the UK and the MIX.