New to the MIX? To participate in the Hackathon, please create a MIX account.
Already have a MIX account? Just log in with your MIX username and password.
If you've forgotten your account information or need any assistance, contact us.
Welcome to the first joint MIX-CIPD Hackathon, Hacking HR to Build an Adaptability Advantage.
Welcome to the first joint CIPD-MIX Hackathon, Hacking HR to Build an Adaptability Advantage. My name is Chris Grams, and I am the Community Guide for the Management Innovation Exchange, or MIX. Over the coming months, I will be one the people leading you through what we at the MIX refer to as a management hackathon.
Since I'm sure many of you have never participated in a management hackathon before, in this post I'd like to give you a better sense for how this process will work and what you can expect.
Meet the Hackathon Guides
MIX Community Guide
Chris has been a contributor to the MIX community for almost three years and is the President and CEO of New Kind, where he helps nurture communities in and around organizations. 

Polly LaBarre Polly LaBarre
Co-Founder and Editorial Director, MIX
Polly is a bestselling author, speaker, television correspondent, and all-around storyteller. She is the co-author of the bestselling book Mavericks at Work and was a member of the original team of Fast Company magazine.

Claire McCartney Claire McCartney
CIPD Adviser on Resourcing and Talent Planning
Claire is responsible for research exploring different aspects of effective talent management strategies and manages the Institute's Resourcing and Talent Forum. She also co-manages CIPD's Employee Outlook research.

John McGurk John McGurk
CIPD Adviser on Learning and Development
In his CIPD role, John has delivered projects on coaching, capability evaluation, soft skills, and E-learning. He has also led CIPD's Business Savvy Research and is currently working on the future skills needs of L&TD and the role of innovation in HR.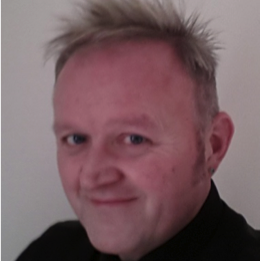 Perry Timms Perry Timms
Founder and Director at www.pthr.co.uk
Perry is a skilled facilitator, coach and mentor and he is qualified in managing change and holds accreditations in a range of psychometric tools. 

Michele Zanini Michele Zanini
Co-Founder and Managing Director, MIX
Prior to co-founding the MIX, Michele was an Associate Partner at McKinsey & Company.  Michele also spent five years as a graduate fellow at the RAND Corporation, advising policy makers on international security issues such as global terrorism.
What is a Management Hackathon?
We originally found our inspiration for these management hackathons in the technology world. In technology, a hackathon is a short, intense, coordinated effort to write a lot of software code in a short period of time. A management hackathon is also an intense, coordinated effort, but to develop useful hacks–bold, yet highly actionable ideas for reinventing processes such as strategic planning, resource allocation, and talent management. The "source code" for these hacks is then available to all leaders and organizations looking for a way around the status quo (and a real performance difference).
What do we hope to accomplish?
As a participant in the MIX/CIPD Adaptability Advantage Hackathon, you will be collaborating with a group of some of the world's most progressive HR and management practitioners. To ensure we can make effective use of the collective intelligence of such an elite group, we've designed the hackathon to be a hands-on, collaborative effort focused on generating fresh, yet practical, ideas.
Our goal is to deeply explore the role that HR could play as a catalyst for increasing the adaptability of our organizations (Learn more in this introductory post by Gary Hamel). Our hope is that by the end of the process, which will culminate in activities around the CIPD Annual Conference in November, we'll have generated many fresh and highly actionable ideas that you can try within your organizations to make them more adaptable than they are today.
And for you personally, we hope that sharing this experience with a group of other passionate management innovators will help spark the ideas, provide the tools, and develop the personal relationships that will prepare you to light the fires of management innovation throughout your organization.
How will it work?
Almost all of the hackathon activities will be hosted here on our collaborative hackathon platform. This platform includes many of the same web-based functionalities you are probably already familiar with from elsewhere on the web, including discussion forums, blogs, ratings, etc.
Most of the actual work on the hackathon will happen asynchronously as a series of short 1-2 week "sprints." Since there will be very few live activities (and those live activities we do have will be recorded so you can watch them later), it will be easy for you to contribute whenever it is convenient for you, no matter where you live in the world.
Most of these sprints are designed to require less than an hour of your time to complete. I say designed, because you may find that on some sprints you'd like to invest more time. Perhaps the sprint addresses a subject you are deeply passionate about or where you bring great experience or knowledge. We love when contributors are able to invest even more time, but you may also find that you can complete some sprints in much less than an hour. That's fine too.
We've found that the short sprint model is ideal for busy people because it allows them to meaningfully contribute in small, manageable blocks of time and to drop in and out as needed.
What is the Timeline?
The graphic below will give you a sense for the rough timeline for the hackathon.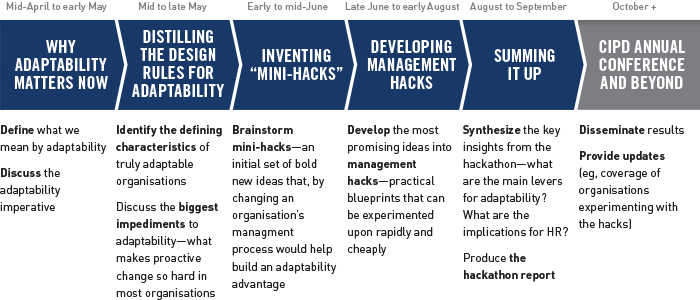 The early sprints will go very quickly, as the intent is to rapidly build a "common" mind about the definition of organizational adaptability and some of the impediments to and key characteristics of highly adaptable organizations. Once we enter the "hacking" portion of the process, we'll start collaborating in smaller hacking groups, and we'll allow more time for these groups to do deeper dives into specific hacking tasks.
Meet the Coaches
We are excited to have a group of leading management thinkers and progressive practitioners joining us for the hackathon as coaches. These coaches will provide thought-provoking perspectives and practical advice to participants throughout the hackathon.
Here is our coaching team:
---

Deborah Baker Deborah Baker
Deborah Baker joined Sky in December 2007 as Director for People. Prior to joining Sky, Deborah was Senior Vice President, Human Resources Worldwide at Burberry plc, responsible for all HR issues across the group. She has also help postions at Ford Motor Company, Schlumberger and Grand Metropolitan.
---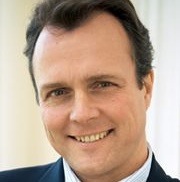 Julian Birkinshaw Julian Birkinshaw
Julian Birkinshaw is Professor of Strategic and International Management at London Business School. He is co-Founder and Research Director of the Management Lab (MLab) and is the author of several books, including Reinventing Management: Making Smarter Choices for Getting Work Done.
---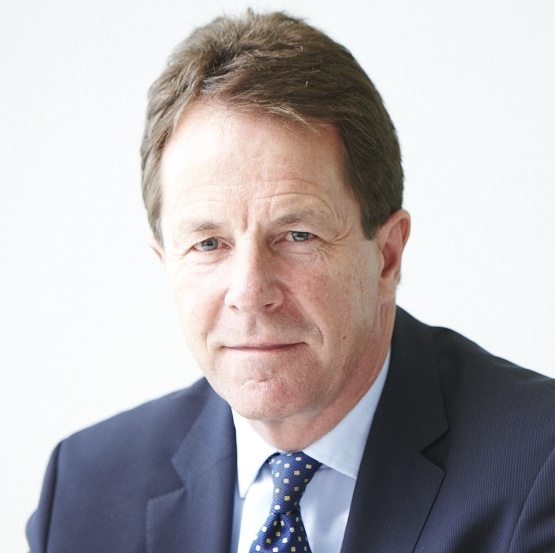 Peter Cheese Peter Cheese
Peter Cheese joined the CIPD as Chief Executive in July 2012. He spent 30 years working at Accenture, culminating in a 7 year spell as Global Managing Director leading the firm's Talent and Organisation Performance Consulting Practice.
---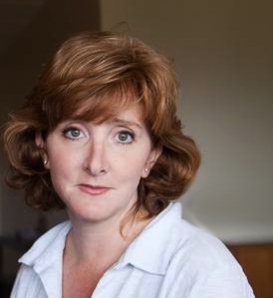 Marcia Conner Marcia Conner
Marcia Conner advises executives in some of the world's largest companies to unite technologies, analytics, and human power into the energy that drives best-around-the-globe performance. She is the former Vice President and Information Futurist at PeopleSoft, Worldwide Manager at Microsoft, and the author of three books.
---

Cary Cooper Cary Cooper
Cary L. Cooper is Distinguished Professor of Organizational Psychology and Health. He is the author/editor of over 120 books (on occupational stress, women at work and industrial and organizational psychology), and over 100 chapters in books.
---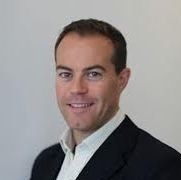 Stephen Frost Stephen Frost
Stephen Frost is a globally recognized inclusion, leadership and communications expert. From 2007-2012 Stephen designed, led and implemented the inclusion programs for the London Olympic and Paralympic Games as Head of Diversity and Inclusion for the London Organizing Committee (LOCOG).
---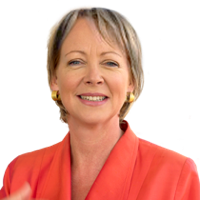 Lynda Gratton Lynda Gratton
Lynda Gratton is Professor of Management Practice at London Business School and the founder of the Hot Spots Movement. She has written six books and numerous academic articles and is considered one of the world's authorities on people in organizations.
---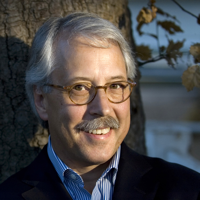 Gary Hamel Gary Hamel
Gary is a world-renowned author, speaker, and thought leader on the future of management. He is the co-founder of the MIX. Hamel has written 17 articles for the Harvard Business Review. His books have been translated into more than 25 languages. His most recent bestsellers have been The Future of Management and What Matters Now. 
---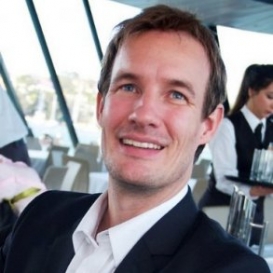 Joris Luijke Joris Luijke
Joris Luijke is the VP of Talent & Culture at Atlassian, an Australian software company. Atlassian's staff engagement practices have been formally recognised over the past year with numerous HR awards, including the global HCI/MIX Human Capital M-Prize.
---

Daniel Pink Daniel Pink
Dan Pink is the author of five provocative books about the changing world of work—including the New York Times bestsellers, A Whole New Mind and Drive, which together have been translated into 32 languages. His most recent book is To Sell is Human —a fresh look at the art and science of moving others.
---

David Rock David Rock
Dr. David Rock coined the term 'NeuroLeadership' and co-founded the NeuroLeadership Institute, a global initiative bringing neuroscientists and leadership experts together to build a new science for leadership development. He is the author of 4 books including the 2009 business-best-seller Your Brain at Work.
---

Paul Sparrow Paul Sparrow
Paul Sparrow is the Director of the Centre for Performance-led HR and Professor of International Human Resource Management at Lancaster University Management School. He has consulted with major multinationals, public sector organisations and inter-governmental agencies He has published over 100 journal articles and chapters, and several books.
---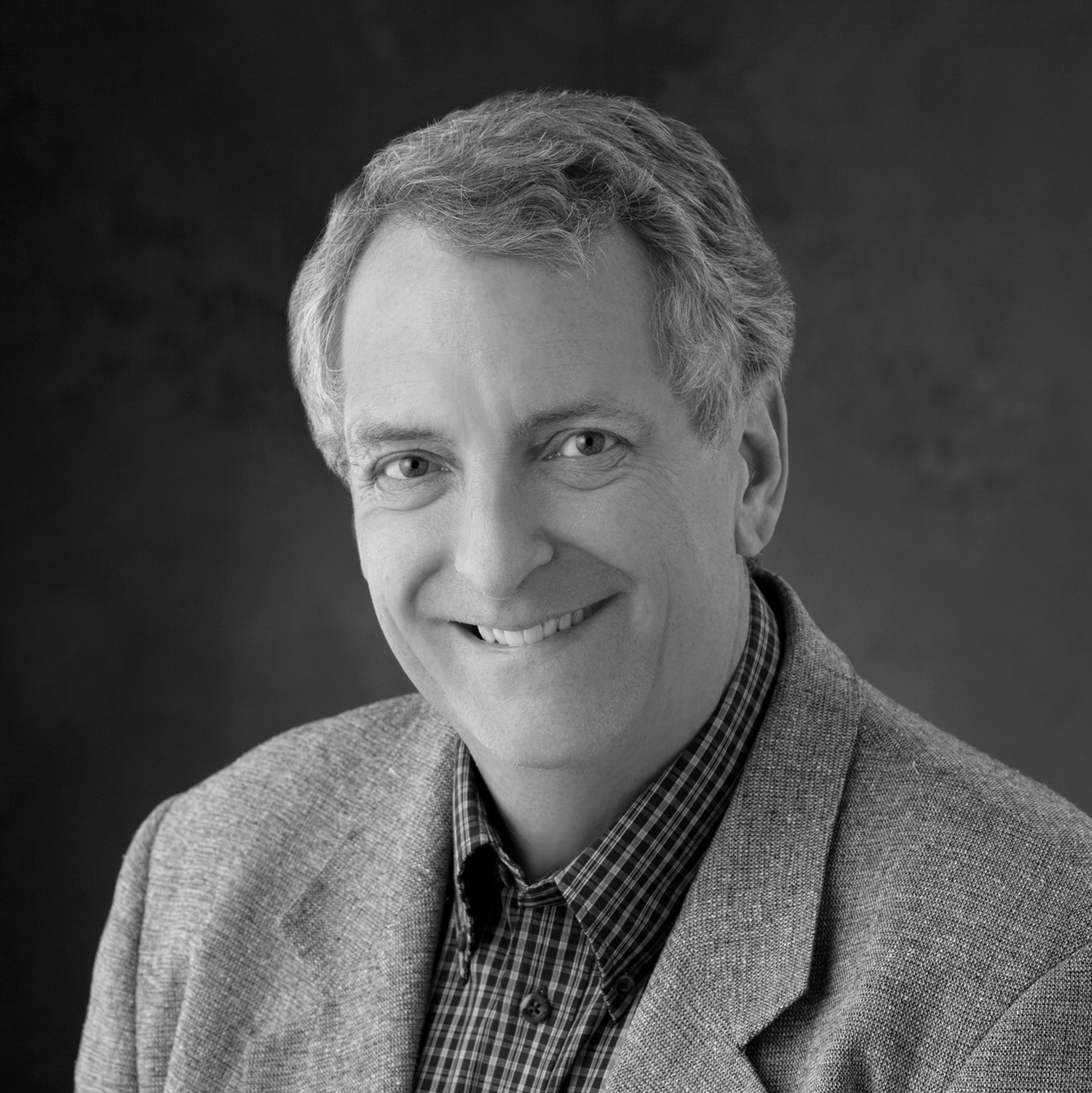 Dave Ulrich Dave Ulrich
Dave Unlrich is a Professor of Business at the University of Michigan. He studies how organizations build capabilities of speed, learning, collaboration, accountability, talent, and leadership through leveraging human resources. He has published 20 books and over 100 articles and book chapters on these topics.
---
We may also introduce other coaches along the way, so stay tuned.
Ready to get started?
The current orientation phase will last until May 5, and in addition to reading through these introductory posts and watching the videos, we invite you to get involved in the discussion around them. Please register on the site in order to comment and participate in the hackathon.You may also want to fill out your profile or get to know your fellow hackathon contributors better. A quick tip: if you mouse over the name of a contributor in the discussion and they have filled out their profile, you should be able to easily connect to them using social media tools like Twitter and LinkedIn. You can also choose to "follow" contributors so that you'll be alerted anytime they post new content.
If you have additional questions you'd like me or the other hackathon guides to answer, please feel free to add them below. Otherwise, look for more instructions to come via email over the next few weeks.
Thanks again for joining the Hacking HR to Build an Adaptability Advantage Hackathon. We are excited to have you on the team.